the hand that rocks the cradle (rules the herd)
sculpture (2023)
This work was exhibited at Glasgow Project Room between the 14-22nd of January as part of 'to tease, to hold these stories through and through', alongside Alkmini Gkousiari and Rosie Trevill. This project was supported by Creative Scotland's Open Fund and The Glasgow School of Art.
The hand that rocks the cradle (rules the herd) is a collection of sculptural works by Isobel O'Donovan. These works examine and reimagine the rituals and symbols associated with acts of caregiving and receiving. Having grown up in Ireland before the repeal of the eighth amendment, Isobel investigates the sacredness placed upon motherhood societally, which is at odds with the social and political treatment of reproductive bodies. These sculptures explore the experience of holding and being held - taking the form of a cradle, a spoon, an udder bag and a house. As vessels, they have the potential to contain and to soothe. These qualities are subverted by the use of varied materials throughout the works - the precious pewter of the cradle contrasting with the poisonous yew engraved upon its surface. The contrast between the poisonous and supportive materials captures the contradiction between the encouragement of young girls towards motherhood and the devastating treatment of them if they do so outside of the confines of the nuclear. Isobel hopes to lead the viewer through a personal reevaluation of their experiences of caring, the gaps between the works presented offering space for memories to emerge.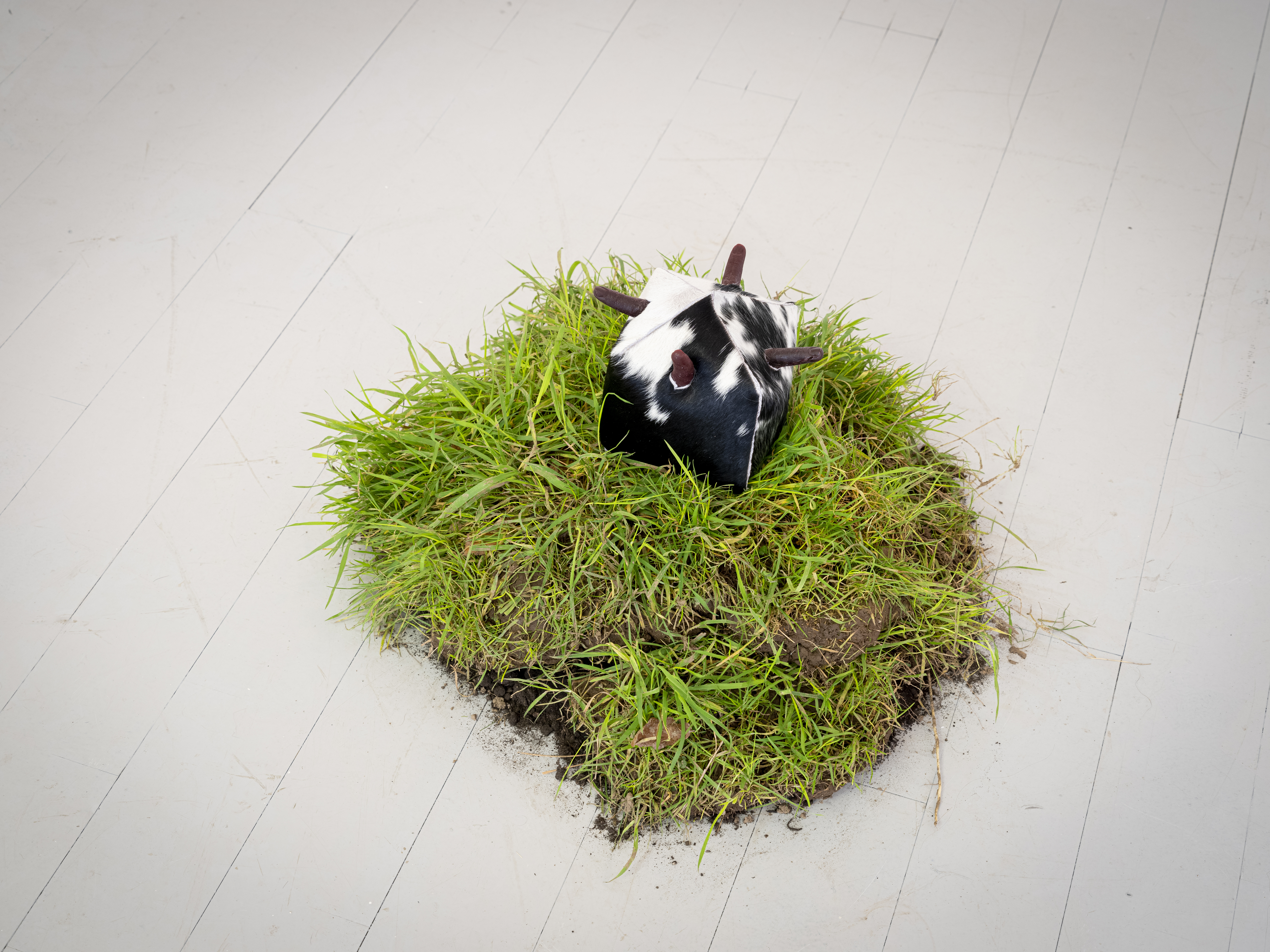 Altar cradles were popular handcrafted items in mediaeval times, providing christians with props to engage in theatrical acts of devotion to the infant Jesus through rocking the crib and caring for wooden dolls as though they were alive. Isobel's crib takes inspiration from a Mediaeval cradle held at the Burrell Collection, which she visits on her lunch breaks while working as a nursery teacher in Pollok Park. The recurrence of poisonous yew throughout the work speaks to the tree's symbolism of death and rebirth within Celtic mythology. Within this suite of works, the object of devotion is unclear, with shadows of cows, mothers and yew trees haunting the gallery. A stable is invoked by the nurturing presence of hay and grass, but is disrupted by the presence of yew - a tree planted to deter cattle from entering graveyards. The yew foliage in this work was gathered from Pollok park, where Isobel has to ensure her nursery class do not mistake the red berries for edible fruit. Through the objects presented, the hand that rocks the cradle (rules the herd) invites the viewer into a reflective space where personal and communal experiences of nurture can be examined and reimagined.